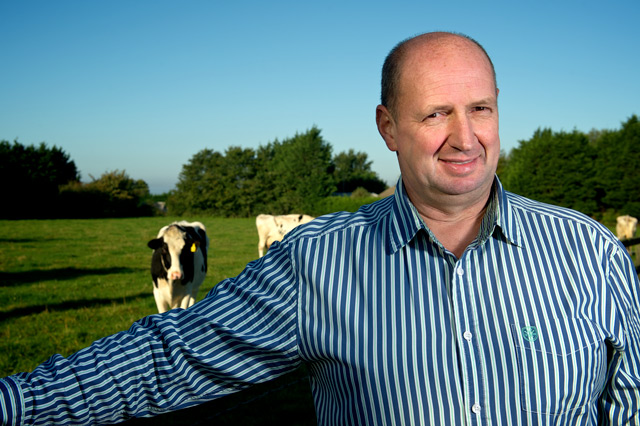 Coolbite Stops Ration Spoiling
As you can imagine, taking a group of cows to a show can be fairly stressful. Not only have the animals got to be preened to perfection, but also you have to think about how you get them there, look after them during the show and feed them.
So when dairy farmer, John Patterson (pictured), wanted to take eight of his prize-winning pedigree cows to the Royal Ulster Winter Fair last year, he had a lot to think about.
John runs the 120-strong Ballyginniff herd of pedigree Holsteins with his family, and they farm near Lough Neagh in County Antrim, Northern Ireland.
The herd calve all year around and average around 8,500 litres milk per lactation. Cows are all grazed by day during the summer, with TMR buffer fed at night, and are housed during the winter period.
The TMR ration is based on home grown grass silage, with a blend added and topped up with compound feed in the milking parlour.
"We always aim to make top quality dry silage," explained John, "as this makes up the bulk of our ration."
Yet when it came to attending the show, it was this high quality dry silage that was giving John some concern. "We knew that we'd have animals at the Winter Fair for 3 or 4 days and we didn't really have the time to be taking fresh feed for them every day. What's more, with eight animals there, we knew we'd be dealing with a fair bit of TMR overall and, with a high dry matter, we were worried that the feed would spoil if we took enough with us to last for the whole show."
John looked around for some way of preserving the feed but was keen to avoid using acid, as it is so nasty to handle. It was suggested that he use Coolbite powder, so he tried it out."I'd never heard of the product before but it sounded ideal," he said. "Coolbite is a powder that is easy to mix into the TMR. We mixed up enough for all the cows for the whole time that we were away and it worked really well. The feed didn't heat or spoil at all, intakes weren't affected and the cows remained keen on the feed throughout the show – I will definitely use it again."
John's trial of Coolbite wasn't the only success at the show either. He was pleased to be awarded the Premier Holstein Exhibitor award, as well as a number of class wins. So that stress was worth it after all!